Jake Young, Guest Contributor
This post is part of a series on SRPR's ongoing and evolving conceptualization of the Poetics of Emplacement. What do we mean by Poetics of Emplacement? SRPR's editor, contributing editors, staff members and friends share their thoughts here.
My two passions in life, writing and wine, sometimes seem inevitable. I was raised in the Santa Cruz Mountains around books and literature; my father Gary Young is a well-regarded poet, and his writing studio, which sits on a hill above our home, is a short stroll from one of the finest wineries in the Santa Cruz area. For the past three years I've worked for the vintner across the road, pouring wine for customers in the tasting room, labeling and boxing new bottles, and helping with the harvest and crush for the first time last year. I realized the many invisible hands and hearts that go into the wine that I was serving, and I realized I want to combine my passions for wine and poetry.To distinguish wines from different vineyards, French winemakers developed the concept of terroir, loosely translated as "the taste of place." The central tenet behind terroir is that every individual wine can reflect the land where the grapes were grown and the wine is produced. Implied by the concept of terroir is the notion that wine has metaphorical value. In one of his odes, Pablo Neruda shouts out to wine:
more than the wine of life;
you are
the community of man,
translucency,
chorus of discipline,
abundance of flowers.
Neruda knew the terroir of the human heart. He knew good writing, like good wine, must be balanced, well constructed, surprising but not overwhelming. And the best writing, like the best wine, appears so natural it seems to originate not from a person, but straight from the earth. Neruda recognized the labor, cooperation, reliance on nature, commitment, and luck necessary to make fine wine, and he seemed to insist that wine, like poetry, is more than an integral aspect of human life: it is a metaphor for everything that holds a society together.
There is so much that goes into making a bottle of wine. Those who recognize terroir understand that wine tastes like the land, that the flavors tell a story, and that this story contains a sense of place. To work with the land, to cultivate and nurture the terroir of a wine, is to reveal the components of a place. Place greatly influences my poems; I feel a pull to the landscapes that are such an important part of my poetic project—praising the land, rows of grapes, fields of artichokes, and paths through forests. Through poetry, it's possible to show how cultures are exemplified by what they consume, and examine how people are connected to the land. People are nourished not only by food, but also by the places where food is grown and by the people who prepare it. "There is communion of more than our bodies when bread is broken and wine drunk," wrote M.F.K. Fisher. A great wine reveals a sense of place, and poetry at its most sublime reveals this as well. Traditionally, wine writing has focused on tasting a wine, evaluating its flavors, assessing the bouquet, commenting on texture, tannins and acidity. I try to approach writing about wine and food from a different perspective. Through my poetry, I want to show how the fruits of the land exemplify culture, and examine how people are connected to the land.Wine and poetry have a long history together. Poets were the first wine writers. In ancient China, poetry was considered wine distilled from the mind. Even today, people retell stories of the ancient Chinese poets who played drinking games, floating wine cups downstream and composing a formal poem where the cup landed, drunk on the language of the land. Poetry, like wine, encourages us to love where we are, what we do, and who we are with. I want to praise the world. In order to better understand our own lives, let us understand our wine. Each sip of wine is a reminder of the complexities that tie things together, of the subtle connections that make life enjoyable.
≅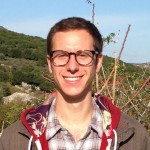 Jake Young lives in Santa Cruz, California, and works at Beauregard Vineyards in the Santa Cruz Mountains. He Received his MFA at North Carolina State University. His most recent work appears or is forthcoming in Red Wheelbarrow, Miramar, Solo Novo, PANK, Vine Leaves Literary Journal, phren-Z, and Gastronomica: Journal of Food and Culture.