Emily Ronay Johnston, SRPR Managing Editor
Emily Johnston's series "Traumatic Emplacement" explores poetics of emplacement, and the simultaneity of dislocation and enmeshment in traumatic poetry.
My last post talked about emplacement and Rumi's call for us to house the guests and violence of emotions, let them sever and mend us. Allison Joseph, featured "SRPR Illinois Poet" in the current issue (38.1), echoes Rumi on this point and poses questions of how we keep violence in its place; how we house without becoming violence. It would be easy to answer, "Just write!," as freewriting advocates might say. "Writing down the bones," as Natalie Goldberg advises, puts us in touch with ourselves. But the trauma of violence erases memory; language fails. Joseph reminds us we need "something more than memory." That is, we need witnesses. Bones aren't enough. Indeed, poetry must "Remember to lie. The truth works for / traffic court, but not for literature." Poetry is not "what happened." It isn't fact; it erodes, forecloses, and makes again. On the page, we do what we cannot with life: we make it into something worth remembering. The reader is here and now, ready to witness— "not sentences that ramble across the page, / lost, listless, unaware of how they should turn," but what we carve those sentences into. "Because they must turn… reversals–forward / momentum, then a reversal back… until we end up / where we never thought we could–couples, // tercets, quatrains–moving boxes of poetry, / miniature rooms where you arrange the chairs/and sofa, dioramas of your own dramas."
≅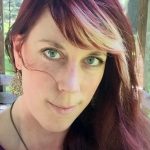 Emily is from Boston, San Francisco, Fairbanks, Alaska, and Central Illinois. Holding a Ph.D. in English Studies and an M.F.A. in Creative Writing/Poetry, her work emerges at the intersections of writing studies, social justice pedagogy, trauma theory, film theory, and narrativity. In particular, she researches and publishes on students' literacy learning in relation to issues of sexualized trauma. She has taught courses in academic writing, public writing, creative writing, gender studies, literature and film, and English as a Second Language. Emily is a Postdoctoral Researcher in Writing Pedagogy at The University of Delaware, and Managing Editor of Spoon River Poetry Review (SRPR).