Emily Ronay Johnston, SRPR Managing Editor
This post is part of a series on SRPR's ongoing and evolving conceptualization of the Poetics of Emplacement. What do we mean by Poetics of Emplacement? SRPR's editor, contributing editors, staff members and friends share their thoughts here.
As Kirstin Hotelling Zona (SRPR Editor) writes, "A poetics of emplacement is interested in borders and thus borderlands: beings and ways of being that are often overlooked." A poetics of emplacement looks—looks over, looks beyond knowing and into the generative realm of wonder. Knowing becomes a beginning, a starting point, not the destination. The destination, rather, is rupture. I am totally on board with not knowing. I mean, how cool is it to have permission to write my way into rupture rather than out of it, avoiding messy-ness at all costs?! When I need to light a fire under my intellect, to override that insatiable addiction to knowledge, I turn to Rumi, Jelaluddin Balkhi. His poetry emplaces me squarely in temporality, in permeability, calling us (human beings) to house the guests of our emotions, regardless of their actions in and through our beings, to "Welcome and entertain them all!/Even if they're a crowd of sorrows,/who violently sweep your house/empty of its furniture" (from "The Guest House"). We mustn't stop at emotion, though. A poetics of emplacement beckons us to welcome the violence of emotionality, not to indulge in suffering, but quite the opposite: to love. To be sure, "The door there/is devastation.//Birds make great sky-circles/of their freedom./How do they learn it?//They fall, and falling,/they're given wings" (from "On Children Running Through"). We might say that a poetics of emplacement is not only "interested in" that which is overlooked, it is also the road there, the looking beyond itself, the surrender to being "filled with you [love]./Skin, blood, bone, brain, and soul" (from "We Three").
≅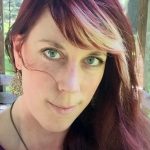 Emily is from Boston, San Francisco, Fairbanks, Alaska, and Central Illinois. Holding a Ph.D. in English Studies and an M.F.A. in Creative Writing/Poetry, her work emerges at the intersections of writing studies, social justice pedagogy, trauma theory, film theory, and narrativity. In particular, she researches and publishes on students' literacy learning in relation to issues of sexualized trauma. She has taught courses in academic writing, public writing, creative writing, gender studies, literature and film, and English as a Second Language. Emily is a Postdoctoral Researcher in Writing Pedagogy at The University of Delaware, and Managing Editor of Spoon River Poetry Review (SRPR).